Edentulism, or toothlessness, affects around 40 million Americans. To treat edentulism, as well as to restore proper eating and speaking function, dentists generally recommend implant-supported dentures. Like traditional dentures, implant-supported dentures can be used on both the upper and lower arches to replace an entire mouthful of missing teeth. However, implant-supported dentures are held in place by a minimum of four dental implants. This prevents them from slipping and rubbing on the gums, as well as provides strength.
Nowadays, many people are electing to have implant-supported dentures placed as a way to restore multiple missing teeth. Like any other dental procedure, however, deciding to have an implant-supported denture placed is a big decision. As such, here are some things that your implant dentist thinks you should consider before getting implant-supported dentures:
You Will Need Oral Surgery
For starters, one thing you need to consider is the fact that dental implants must be placed during a minor oral surgery. This is because they are placed into the jawbone where they will fuse in place. On average, only four implants are placed per arch, which is why you may hear implant-supported dentures referred to as all-on-four implants. Not only will you need to be willing to undergo dental implant surgery, but you will also need to be healthy enough to receive sedation.
You May Need a Bone Graft
In addition to undergoing dental implant surgery, you may also need a bone graft. A bone graft is a surgical procedure that places bone material in an area of low bone mass in order to encourage new bone growth. There is also a specialized bone graft called a sinus lift that may need to be performed on the upper arch to build up the bone between the mouth and the sinus cavity in order to prevent damage to the sinuses. In some cases, bone grafts can be performed during implant surgery, while in other cases they may need to be required ahead of time. People who require bone grafts are generally those that have had missing teeth for over six months or who have had or currently have severe gum disease.
Recovery Requires Compliance
After undergoing dental implant surgery, your implant dentist will provide you with postoperative instructions to follow. In order for your implants to heal properly and be successful, it is essential that these instructions are followed closely. Although dental implants have the highest success rate of any dental restoration, they can fail due to a lack of patient compliance. Implants can succeed or fail based on whether osseointegration occurs. Osseointegration is a 3-6 month process by which new bone grows around the implant and fuses it in place with the surrounding bone. If osseointegration does not occur, then the implants will need to be removed.
The Upfront Cost is Higher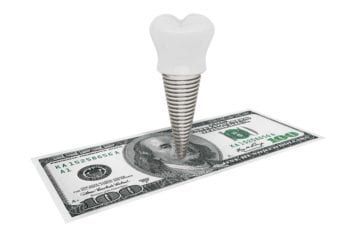 Implant-supported dentures generally have a higher upfront cost than other types of restoration methods for missing teeth. However, dental implants can last up to 20 years once they have been placed. Dental implants also prevent future bone loss by stimulating the jawbone, which means your facial structure will not change over time. Although traditional dentures are less expensive, they will need to be regularly replaced as bone loss occurs from a lack of stimulation. Because of this, traditional dentures may actually end up costing more over time.