Teeth can fall out from decay or severe gum disease and they can also be knocked out during an accident. Sometimes they may even need to be extracted due to severe decay or damage that cannot be fixed with restorative methods. Regardless of how a tooth or teeth has gone missing, the important thing is to have it replaced as soon as possible.
Two common tooth replacement options are dental implants and bridges. While both tooth replacement options are capable or replacing one or more missing teeth, they offer different approaches. For this reason, it is important to understand what dental implants and bridges are, as well as how they can restore missing teeth. Here's a closer look at these two common tooth replacement options:
Bridges
A dental bridge is composed of one or more fake teeth surrounded by a dental crown on either side. These dental crowns are placed over the remaining teeth on either side of the gap left by one or more missing teeth. While the crowns are used to support the restoration, the fake teeth actually create a bridge between the existing teeth on either side of the gap.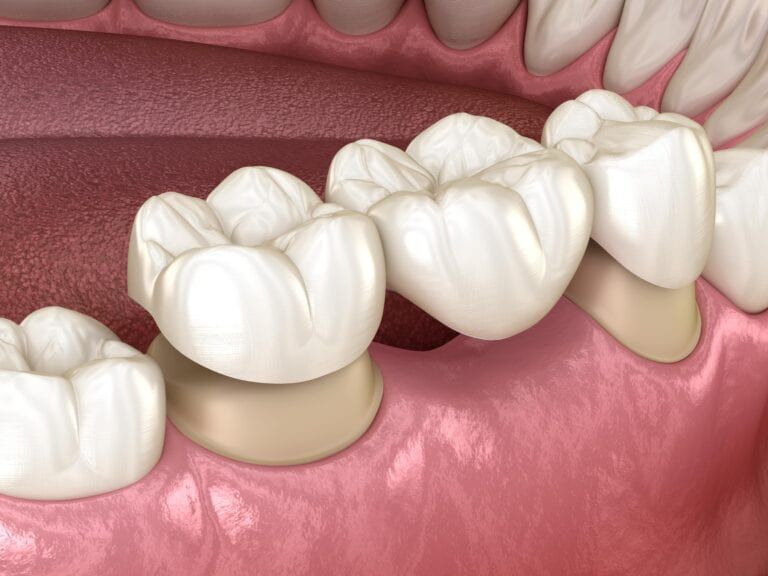 There are also different variations of dental bridges. For example, a Cantilever bridge only uses a single dental crown paired with a single fake tooth. There are also Maryland Bonded bridges, which are held in place with a metal framework that wraps around the teeth instead of using dental crowns. In most cases, however, your dentist will recommend placing a traditional dental bridge.
Traditional dental bridges can be placed over the course of two dental appointments. During the first appointment, the teeth on either side of the gap will need to be reduced in size to accommodate the placement of a dental crown. After the teeth have been altered, a dental impression or oral scan will be taken to obtain the information necessary to fabricate your bridge. Once the permanent restoration is complete, a second appointment will be needed to place the bridge by cementing the crowns to the teeth.
Dental bridges are able to replace missing teeth by using a bridge of fake teeth supported by dental crowns. They are a more affordable option for tooth replacement and the entire process can be completed relatively quickly. However, dental bridges only tend to last about 5-7 years after they are placed and will need to be replaced once they wear out. Dental bridges are also unable to stimulate the jawbone, which means they will lose their natural appearance as the bone structure starts to change. In some cases, dental bridges have also been associated with causing more cavities in the surrounding teeth.
VS.
Dental Implants
A dental implant is composed of a titanium implant screw that is placed in the jawbone, a connector piece, and a dental prosthetic. In the case where a single tooth is lost, an implant-supported crown is used. In cases where multiple teeth are missing, an implant-supported bridge is used. An implant-supported bridge uses the same structure as a traditional bridge with the exception that it is supported by dental implants instead of dental crowns.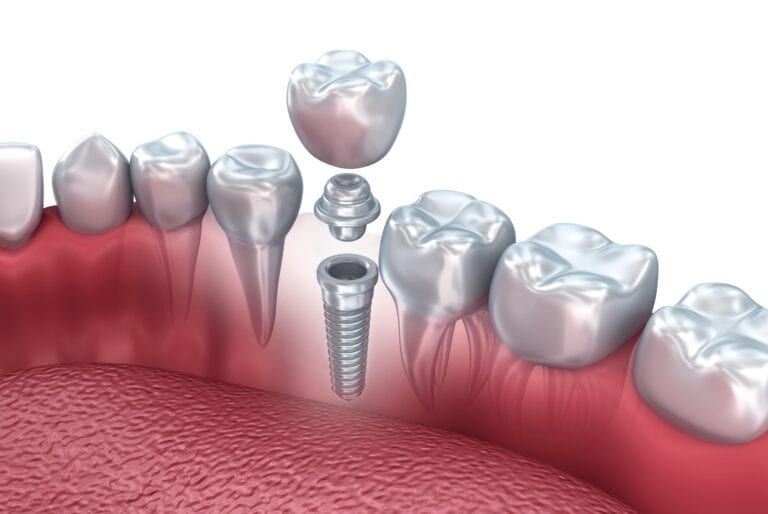 Having dental implants placed is more involved than getting a dental bridge. For starters, minor oral surgery is required to place the implants into the jawbone. Once the implants have been placed, they will need to heal properly in order to be successful. While most people feel better about 1-2 weeks after implant surgery, it does take about 3-6 months to fully heal. This is because the surrounding bone must fuse with the implant in order to secure it in place. Once the implant is fused with the bone, the permanent restoration can be mounted to the implant.
The invasive nature of the procedure is one main downfall of dental implants. Another is the cost. Despite the fact that dental implants take longer to place and cost more, however, they also don't need to be replaced and can save you money over time. Once the implant has fused with the bone, it will remain in place permanently. This means that only the restoration will need to be replaced from time to time.
Additionally, dental implants provide the necessary jawbone stimulation in order to maintain proper bone mass. This means that the shape of your jaw will be maintained as you age. Not only will this keep you looking your best, but it will also decrease the risk of losing more teeth in the future. Finally, dental implants fused in the jawbone are significantly stronger than a traditional dental bridge, which means you will have normal chewing function. Overall most dentists agree that dental implants are the best tooth replacement option.