Did you know that the month of October is National Dental Hygiene Month? Throughout this month, dental hygienists everywhere are on a mission to stress the importance of dental hygiene to their patients. Even though many people think of dental hygiene as only being important to maintain their natural teeth, dental hygiene is also important if you have one or more dental implants. This is because a lack of dental hygiene can result in a variety of dental implant complications.
The most popular complications caused by a lack of dental hygiene are known as peri-implant diseases. There are two different types of peri-implant diseases including peri-implant mucositis and peri-implantitis. Both types of peri-implant diseases can develop when plaque and bacteria accumulate on the base of the dental implant, below the gum line. Not only will this bacteria cause inflammation in the gum tissue, but it can also cause implant failure.
The first, peri-implant mucositis, occurs when there is gum inflammation surrounding only the base of a dental implant. This inflammation is usually mild, however it can progress into peri-implantitis if left untreated. Peri-implantitis is also characterized by gum inflammation around a dental implant, however it is also accompanied by deterioration of the surrounding bone as well. Unfortunately, peri-implantitis generally requires surgery and can result in dental implant failure.
When it comes to dental implants, maintaining proper oral hygiene is essential for maintaining your dental implants. In fact, failing at daily dental hygiene can also cause your dental implants to fail. Therefore, in honor of National Dental Hygiene Month, here are the top hygiene tips for dental implants:
Brush Twice a Day
Just like natural teeth, dental implants need to be properly brushed twice a day for two minutes at a time. Although you can use any soft-bristled toothbrush, it is recommended to use an electric toothbrush since they can reach more places and clean more thoroughly than a manual toothbrush. While brushing your dental implant, be sure to brush it just like you would your natural teeth. You may also want to consider using an interdental brush to reach hard to reach areas around your implant.
Floss Daily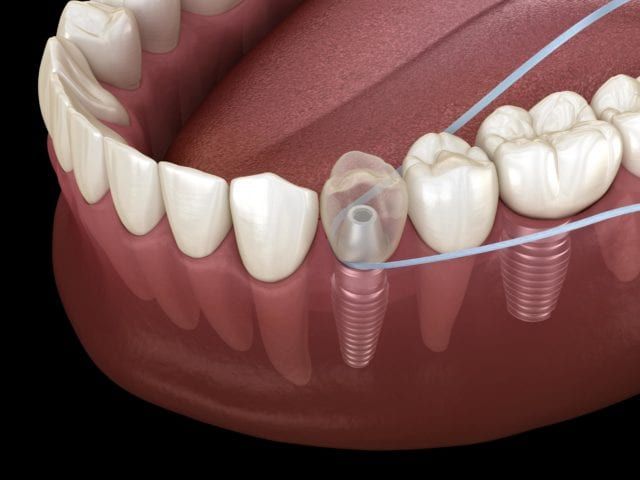 Another important thing to remember is that dental implants also require daily flossing in order to remove plaque from where the implant meets the gum line. To make flossing with a dental implant easier, try using unwaxed floss and a floss threader to help you get the floss around your implant. In some cases, it may also be beneficial to purchase specialized floss and floss threaders specifically for dental implants. Additionally, a water flosser may also make flossing in between small spaces easier, especially if you need to reach under an all-on-four implant bridge.
Use Non-Abrasive Toothpaste
Since the dental crowns used in coordination with dental implants are not made from enamel like natural teeth, abrasive toothpastes can damage their surface. Because of this, it is important to select a non-abrasive toothpaste. Generally speaking, non-whitening toothpastes with the American Dental Association seal of approval are the way to go when choosing what toothpaste to use with dental implants.
Clean Overdentures
If you have a snap-on implant-supported denture, also known as overdenture, then you will need to remove it daily to inspect its O-rings, locator caps, and clips. You will also need to properly clean the denture by soaking it in denture cleaner and then using a denture brush to brush the underside. Finally, you will rinse the denture before inserting it back into your mouth.
Schedule Regular Dental Appointments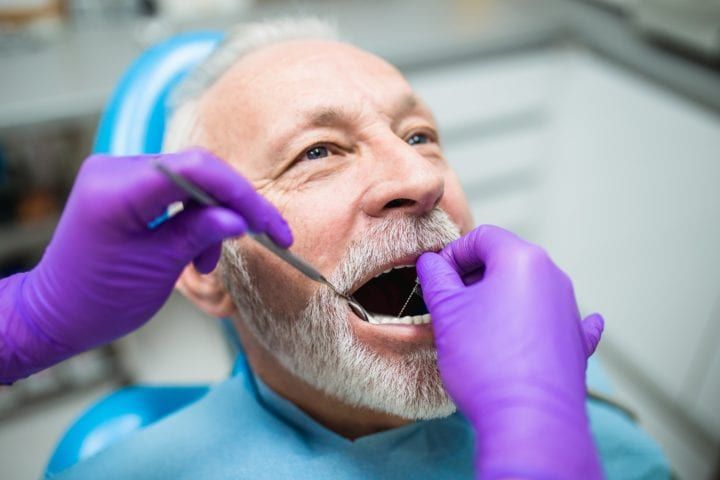 Even with daily dental hygiene, you will still need to visit your dentist regularly for an exam and cleaning. Dental exams are needed so your dentist can evaluate the condition of your gums, implants, and any remaining teeth. During your professional dental cleaning, your dentist will use specialized tools to remove plaque, tartar, and bacteria from the various parts of your dental implant. They will also clean the hard to reach areas, like underneath your implant. In some cases, your dental restoration may also need professional adjustments and specialized cleanings. Finally, these appointments allow your dentist to evaluate your hygiene practices and help you improve them if needed.