Have you been considering tooth replacement options but don't know where to start? Missing teeth can have a major impact on your smile, but you no longer have to live with gaps in your grin. Dental implants, bridges, and dentures are all viable tooth replacement options for people suffering from missing or damaged teeth. With these treatments, it's possible to not only restore the function of your mouth but also improve the aesthetics of your smile and boost your self-confidence at the same time! In this blog post, we'll explain each option in detail.
Overview of the Different Tooth Replacement Options
There are a variety of options available for replacing missing teeth. While we will go over each option in more detail below, here is a glance at how these options compare:
| | | | |
| --- | --- | --- | --- |
| Tooth Replacement Option | Description | Pros | Cons |
| Dentures | Removable appliance that sits on the gums and replaces multiple missing teeth | Affordable, non-invasive, can be easily adjusted or replaced | Can be uncomfortable, may slip or shift in the mouth, require regular cleaning and maintenance, may need to be replaced every 5-10 years |
| Dental Bridges | Fixed appliance that attaches to adjacent teeth and replaces one or more missing teeth | More stable and natural-looking than dentures, do not require removal for cleaning, can last up to 15 years | Requires adjacent teeth to be filed down for placement, may cause discomfort or sensitivity, difficult to floss or clean underneath |
| Dental Implants | Permanent, surgically placed tooth replacement that consists of a titanium post, abutment, and crown | Most natural-looking and feeling option, durable and long-lasting, do not affect adjacent teeth | Expensive, requires surgery and healing time, may not be suitable for all patients, requires regular check-ups and maintenance |
Dentures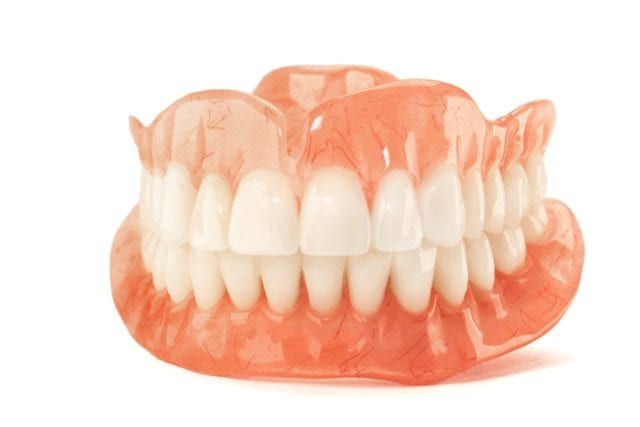 Dentures are false teeth that replace missing ones. They involve creating a customized set of replacement teeth that are attached to a gum-colored base and fitted over the gums. They can be either complete dentures, which replace all teeth, or partial dentures, which replace only some missing teeth. Though these are typically made of plastic or acrylic, some partial dentures may be made using a metal framework. With proper care and maintenance, dentures last many years but will eventually need to be replaced due to wear-and-tear over time.
The denture process typically starts with impressions being taken of your mouth, so that a set of dentures can be made. Once complete, fittings are necessary to ensure the perfect fit and look of your new dentures. Your dentist will check the fit of your dentures and make any necessary adjustments to ensure that they fit comfortably and securely. They will then provide you with information on how to care for your dentures.
Pros and cons of dentures
Pros of dentures include their affordability, non-invasive procedure, and the ability to replace multiple missing teeth at once. However, there are some drawbacks associated with dentures that need consideration. It can take time for the wearer to get used to them, and they may feel uncomfortable or ill-fitting at first. Dental adhesives, such as pastes and creams, may be required to securely hold them in place, and there is still the possibility of them shifting while speaking or eating. Further, dentures will require periodic adjustments due to an individual's changing jaw structure over time. Cleaning is also essential; daily brushing and soaking is recommended, but special attention should be given when handling them as they can easily break if dropped. All of this should be taken into account before making a decision on whether dentures are suitable for you.
Dental Bridges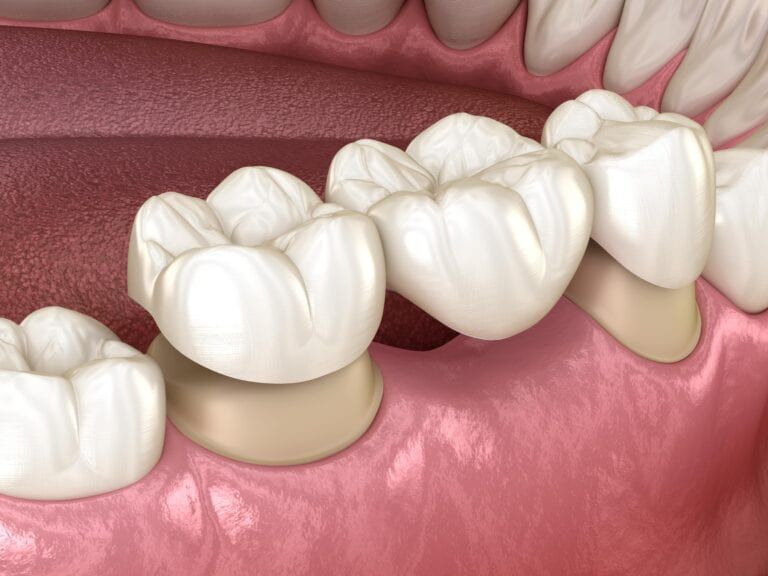 Dental bridges are another way to fill in gaps left by missing teeth. A dental bridge is a restorative technique used by dentists and prosthodontists to replace lost teeth. This process involves placing a false tooth (or teeth) and anchoring it between existing natural teeth or dental implants. The false tooth, or pontic, is usually made of porcelain, resin, metal alloy or a combination of materials, and is designed to match the shape and size of the missing natural teeth in order to restore proper functioning of the mouth.
There are several steps to having a dental bridge placed. First, the teeth on either side of the missing teeth will need to be prepared for dental crowns. This involves removing some of the enamel from the abutment teeth to make room for the dental crowns. After the abutment teeth are prepared, your dentist will take impressions of your teeth to create a custom dental bridge. These impressions are sent to a dental lab, where the bridge is fabricated. Once the bridge has been completed and is properly fitted and adjusted, your dentist will permanently cement it in place using a dental adhesive. They will then check the bite and make any final adjustments to ensure that the bridge feels comfortable and functions properly.
Pros and cons of dental bridges
Pros of dental bridges include their affordability, relatively quick procedure, and the ability to replace multiple missing teeth at once. However, they require adjacent teeth to be ground down for support, may not last as long as dental implants, and can be difficult to clean and maintain. While researching each of these options, it is important to consider all of the pros and cons before deciding what might work best for you.
Dental Implants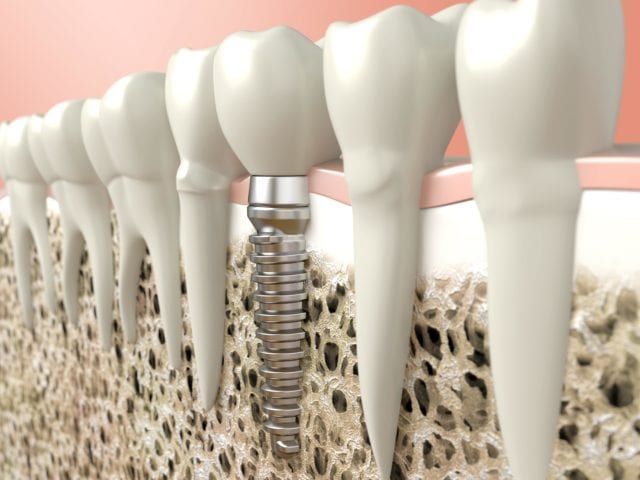 Dental implants are a great way to replace missing teeth and regain dental health. Implants are small screws made from titanium or ceramic that act as prosthetic replacements for natural teeth, giving you the look and feel of real teeth. They offer long lasting results that can last 20 years or more with proper care, making them a popular choice for those looking for a reliable solution for missing teeth. When considering dental implants, the best thing to do is meet with your dentist who can evaluate the best option for your unique situation. Depending on how many teeth need to be replaced, the type of implant used may vary and your dentist will help determine if any additional treatments or procedures are needed prior to having your new smile installed.
The dental implant process is a unique procedure that utilizes surgical implants to replace damaged or missing teeth. The first step involves surgically inserting small titanium posts into the jawbone to act as anchors for replacement teeth. Once healed and integrated with the jawbone, artificial teeth are custom-crafted to attach securely onto the posts. Depending on your specific condition and treatment plan, dental implants can be used for single tooth restoration or to support dentures, bridges and other prostheses. As a result of the implant procedure, patients usually experience improved comfort and stability as well as enhanced chewing power and improved appearance of their smile. With proper care and maintenance, dental implants can last 15-20 years or longer – making them a reliable solution for tooth replacement needs.
Pros and cons of dental implants
Dental implants provide an effective and long-lasting solution for replacing missing teeth, but they come with certain pros and cons which should be taken into consideration. In general, dental implants can offer you a number of advantages, including improved speech and increased comfort while chewing compared to traditional dentures or bridges. In addition, unlike other solutions, dental implants fuse to the bone in your jaw, creating a more secure bite.
On the other hand, there are some drawbacks associated with dental implants that may make them a less suitable option for some patients. For instance, they require a surgical procedure and can be quite costly in comparison to conventional restorations like crowns and bridges. Furthermore, underlying dental conditions such as gum disease must be addressed before starting any implant treatment. These issues should be discussed with your dentist before making any decisions about getting dental implants.
How to Choose
Choosing between dentures, dental bridges, and dental implants as a tooth replacement option can be a difficult decision. Each option has its own benefits and drawbacks, and what works best for one person may not be the best option for another. Here are some factors to consider when deciding between dentures, dental bridges, and dental implants:
Budget: Cost is often a deciding factor when choosing a tooth replacement option. Dentures are typically the most affordable option, while dental implants are generally the most expensive. However, people often end up spending more money on dentures over time since they need to be replaced every few years, while dental implants usually don't require replacement ever.
Oral health: Your oral health will also play a role in determining which option is best for you. If you have good oral health and strong, healthy teeth, a dental bridge or implant may be the best option. However, if you have multiple missing teeth or other oral health issues, dentures may be a better choice. In some cases, specialized dental implants, such as zygomatic or mini dental implants, can also be used for patients with low bone mass.
Lifestyle: Consider your lifestyle when choosing a tooth replacement option. If you lead an active lifestyle or play sports, dental implants may be the best option, as they are the most durable and secure. Additionally people who have difficulty adjusting to new dental appliances may also prefer dental implants since they function like natural teeth, whereas dentures require one to relearn eating and speaking.
Comfort: The comfort of your tooth replacement option is important, as it can affect your daily life. Dentures may take some time to get used to, and some people find them uncomfortable or ill-fitting. Dental implants and bridges, on the other hand, are typically more comfortable and secure.
Longevity: Consider the lifespan of each option when making your decision. Dental implants are the most long-lasting option, with a lifespan of 20-25 years or more. Dental bridges can last up to 15 years, while dentures typically need to be replaced every 5-10 years. Since dentures are removable, they are also more likely to become damaged and need repair, whereas dental implants and bridges are fixed in the mouth.
Ultimately, the best way to choose between dentures, dental bridges, and dental implants is to consult with a dentist or prosthodontist. They can evaluate your oral health and help you determine which option is the best fit for your needs, lifestyle, and budget.
In Conclusion
In conclusion, it is evident that tooth replacement has several options, each with their own unique advantages and disadvantages. In order to determine the best option for your needs, it is essential to talk with your dentist who can provide you more detailed information on each choice and help you decide which type of tooth replacement is right for you.