When it comes to getting dental implants placed, most people envision getting a single implant to replace one missing tooth or an implant-supported denture to replace an entire arch or mouthful of missing teeth. Yet, not as many people envision getting multiple dental implants placed in coordination with their natural teeth, despite the fact that it is possible. Therefore, we are going to take a closer look at what happens when you get dental implants while still having natural teeth.
Understanding Dental Prosthetics
In order to understand how dental implants can be placed in coordination with natural teeth, we must first have a basic understanding of dental prostheses. A dental prosthesis is an artificial device used to restore and/or reconstruct defects inside the mouth such as missing teeth, missing parts of teeth, and missing soft or hard structures of the jaw and palate. There are a variety of dental prostheses available to restore your oral health, such as: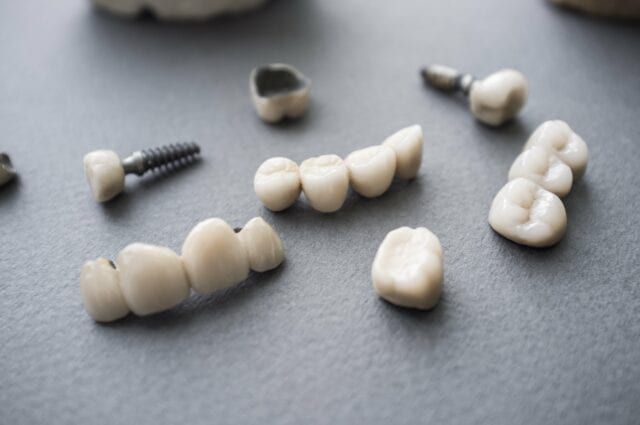 Crowns
Bridges
Dentures
Dental implants

Certain dental prostheses are intended to replace missing parts of the tooth, such as a dental crown. Dental crowns fit over an existing tooth and are used to restore said tooth when significant damage or decay has affected the majority of its structure. Other dental prostheses, such as a bridge, denture, or dental implant, are used to replace an entire missing tooth. With that being said, dental implants can only be used to restore a tooth that has fallen out or been extracted. 
However, dental implants can be used in coordination with a crown, bridge, or denture, depending on the number of missing teeth. This is because dental implants refer only to the metal implant screw that is placed in the jawbone. Once the implant or implants have been placed, then a crown, bridge, or denture can be loaded onto the implant or implants. Implant-supported crowns are composed of a single implant topped with a crown used to replace a single tooth, while an implant-supported denture is composed of multiple implants that attach and hold a denture used to replace an entire arch of teeth.
The Implant-Supported Bridge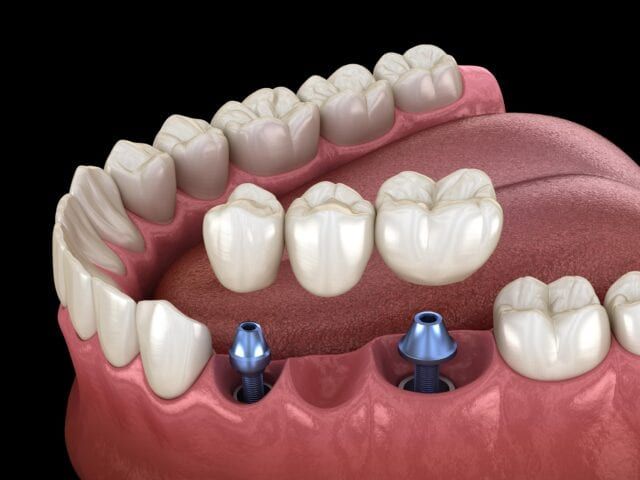 Although not as well known, there are also implant-supported bridges, which are used to restore multiple missing teeth in cases where there are still remaining natural teeth. A traditional dental bridge is made of one or more fake teeth fused to crowns on either side. In a traditional bridge, these crowns are placed over the top of existing teeth on either side of the gap left by one or more missing teeth. In an implant-supported bridge, however, implant-supported crowns are used to support the bridge. This allows for the replacement of multiple missing teeth while only requiring the placement of two dental implants. Of course, the one downside to implant-supported bridges is that they can only be used in cases where the multiple missing teeth are also adjacent, or next to one another.
What other options are available for replacing multiple missing teeth with dental implants?
In cases where there are multiple missing teeth that are staggered throughout the mouth, a different approach may be needed. For example, some dentists may recommend a combination of implant-supported crowns and implant-supported bridges. As a general rule, most dentists will try to preserve natural teeth that are healthy.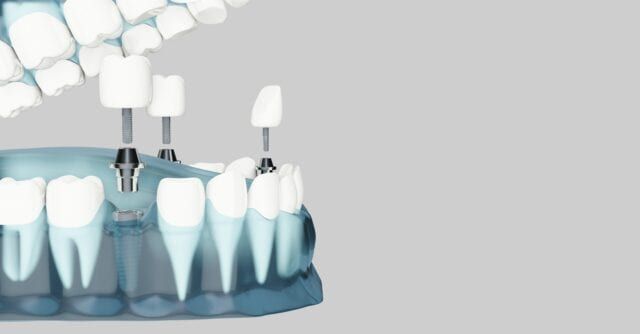 However, there are also cases where healthy teeth may need to be extracted in order to benefit your oral health in the future. For example, your dentist may recommend the strategic extraction of certain teeth to allow for the placement of an implant-supported bridge. This is especially the case with teeth that have already been affected by damage or decay, and are expected to eventually require extraction in the future.
In cases where the number of missing teeth exceeds the number of remaining intact teeth, then your dentist may also recommend the extraction of the remaining teeth in order to place an implant-supported denture. Again, this is generally the case when the remaining teeth have already been affected by damage or decay, and are expected to eventually need extraction.
How to Care for Dental Implants Surrounded by Natural Teeth
When caring for dental implants that are surrounded by natural teeth, you may think that your oral hygiene routine would be much different. Luckily, however, caring for dental implants is similar to caring for your natural teeth. Although dental implants cannot get cavities like natural teeth, they can be affected by gum disease. Therefore, it is important to brush twice a day, floss daily, and visit your dentist every six months for a dental cleaning and exam. These steps remove excess bacteria from the surface of your teeth and dental prosthesis, as well as from along the gum line to prevent additional dental issues from occurring.